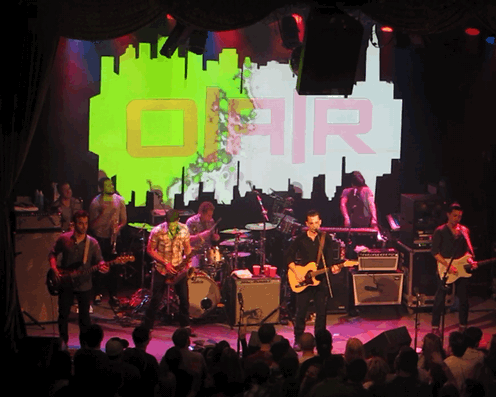 Client

O.A.R.

Role

Design & Fabrication, Content Development, Projection Mapping, Show Control
If you have ever been to an O.A.R. show, then you know that no two shows are alike. 
O.A.R. approached Collab to design and build a visual experience for the band's three city extended stay concerts.
​Take fans through a historical journey of the nearly 20 years of the band's life together, while making the installation easy to transport and assemble.
The Collab team designed a cityscape as a backdrop that weighed less than 20 pounds, and could be folded into a 6 ft square. We started by building a miniature model of the set in order to test how the visuals would love when projected on a larger scale.  ​Custom animations were designed to be deployed in real time at the shows, The animations were specific to the band, and the city and venue they were playing in.  
We organized our custom animation into a library of visual assets that could be deployed in real time during the shows.  We developed custom software to trigger visuals based on the tempo of the music during the live performance.  
We worked with Epson as our projection partner, and used our laptops to run the show.  Without the budget for the more advanced equipment we typically use for these kinds of projects, we hacked together different technologies, creating a unique system to deploy visuals.  We added a live feed feature that could stream the audience at the concert into the content, deploying their participation at various times throughout the show.